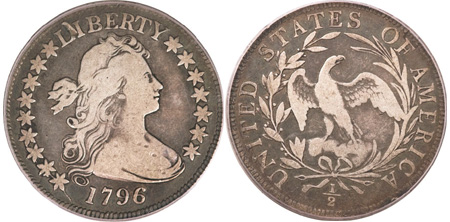 The 1796 and 1797 Draped Bust Half Dollar are both extremely rare coins, and considered a key date for anyone assembling a complete type set of United States coins. These issues featured the small eagle reverse design, in use for only these two years before being replaced by the heraldic eagle reverse design.
The mintage across both years was just 3,918 pieces. This extremely small number of coins was placed into circulation, and except for a scant few, virtually none have survived in uncirculated condition. Perhaps 200 to 250 coins still exist across all grades. Many of these examples will exhibit various problems such as cleaning, repairs, or corrosion. However, collectors will still readily acquire these pieces for high prices due to the lack of availability for problem free options.
Based on mint delivery figures, the estimated mintage for the 1796 Draped Bust Half Dollar is 934 pieces. Of this amount only 365 pieces are believed to have 16 stars on the obverse, while the balance display 15 stars. Walter Breen mentioned the possibility that the 16 star variety was struck to commemorate that admission of Tennessee into the Union, although this is unconfirmed as well and might be a myth. Interestingly, a few 1796, 15 star half dollars are classified as presentation strikings, although this is unconfirmed and disputed.
All examples of the 1797 Draped Bust Half Dollar are found with 15 obverse stars. The mintage is estimated to be 2,984 based on the above. The finest known example for the type carries this date and is graded MS-66. The coin sold for $1,380,000 in the summer of 2008.