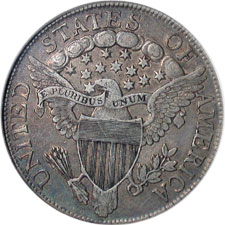 The relatively high mintage of 1806 Draped Bust Half Dollars included a large number of varieties. The rarest of these is Overton-108, identified by the form of the six in the date on the obverse and the branch stem on the reverse.
The numeral "6" appears with a knobbed rather than pointed tail, and the olive branch stem does not extend through the eagle's claw. Both of these attributes may appear individually on other varieties. When encountered together, it represents an extremely rare variety with only a few examples known to exist.
At right, the reverse of the "pointed 6, stem not through claw" is pictured.
One of the finest known examples of the 1806 Draped Bust Half Dollar with knobbed 6, stem not through claw graded EF-40 made a recent auction appearance, selling for $126,500 in January 2009.