The 1796 and 1797 Draped Bust Half Dollar (Buy on eBay) are extremely rare and considered key dates for anyone assembling a type set of United States coins. These issues feature the small eagle reverse design, in use for only these two years before being replaced by the heraldic eagle reverse design.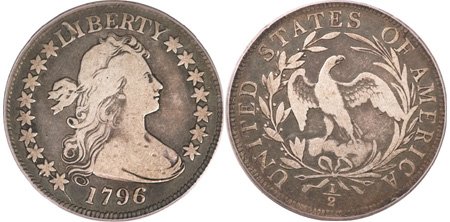 The mintage of the two issues is often indicated together as 3,918 pieces across both dates since the early Mint records are unclear. It has been estimated that the 1796 Half Dollar had a mintage of 934 pieces, which can be further divided to 365 pieces with 16 stars on the obverse and 569 pieces with 15 stars on the obverse. The balance of 2,984 pieces is estimated as the mintage for the 1797 Half Dollar, which are all found with 15 stars on the obverse.
From the scant original mintage, perhaps only 300 examples have survived across both dates, with most in well-circulated condition. Many of these examples will exhibit various problems such as cleaning, repairs, or corrosion. However, collectors will still readily acquire these pieces due to the unavailability of problem free options. Only a handful of examples have survived in uncirculated condition and these pieces generate substantial interest on their infrequent auction appearances.
The finest known 1796 Draped Bust Half Dollar with 16 stars graded PCGS MS66 realized $822,500 at auction in 2015. The finest known 1797 Draped Bust Half Dollar realized $1,527,500 in the same year.