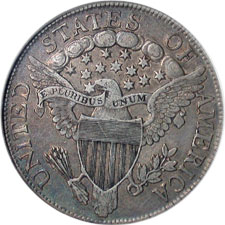 The 1806 Draped Bust Half Dollars (Buy on eBay) had the highest mintage of the series at 839,576 pieces. Perhaps accordingly, this date yielded the largest number of varieties. The rarest of these is Overton-108, identified by the form of the "6" within the date and appearance of the stem of the olive branch.
Specifically, on the obverse the number "6" within the date appears with a knobbed rather than pointed tail. On the reverse the olive branch stem does not extend through the eagle's claw. Both of these attributes may appear separately on other varieties. They will only appear together on this extremely rare variety, which is represented by merely seven examples known to exist.
The finest known example of the 1806 Draped Bust Half Dollar with knobbed 6, stem not through claw graded XF40 sold for $105,750 at auction in 2015.