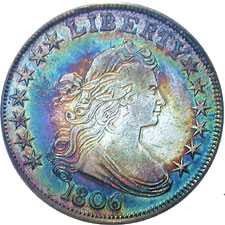 The Draped Bust Half Dollar with the small eagle reverse represents one of the rarest of all American coin types. The total mintage across the two dates of issue and numerous varieties was just 3,918 coins. With an even smaller number of surviving specimens, this coin represents one of the keys to a complete type set of United States coins.
The heraldic eagle reverse Draped Bust Half Dollars issued from 1801 to 1807 are more available, but remain somewhat scarce. Mintages fluctuated during the years of issue, as a result of the varying amounts of silver deposited at the Mint to be coined into half dollars.
The highest mintage of the heraldic eagle type was archived in 1806, when a total of 839,576 half dollars were struck for circulation. This year included many different varieties which are actively collected by specialists. The lowest mintage of this type occurred in 1802 when 29,890 coins were struck.
The table below presents the mintages for the series across both reverse types and all years of issue.
| Small Eagle Reverse | Mintage |
| --- | --- |
| 1796, 1797 | 3,918 |
| Heraldic Eagle Reverse | Mintage |
| --- | --- |
| 1801 | 30,289 |
| 1802 | 29,890 |
| 1803 | 188,234 |
| 1805 | 211,722 |
| 1806 | 839,576 |
| 1807 | 301,076 |